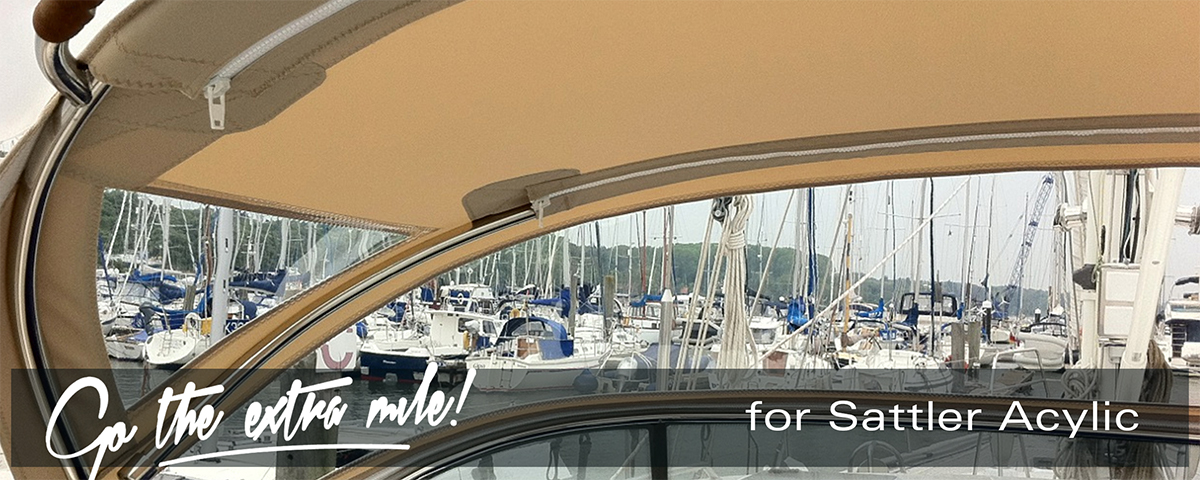 Sattler Acrylic Cover Fabrics
The Sattler Group is an international family-owned firm with headquarters in Austria. Established over 130 years ago, Sattler have established themselves as one of the worlds leading manufacturer of highTEX products, renowned for quality, durability and consistency by thier customers.
The Nautex Acrylic is available in 3 styles: The flagship of their range is the unique Nautex Premium 344 Breathable Acrylic, unique in being the only acrylic marine fabric to combine high water resistance with excellent breathability. The Nautex Classic 354 Coated and Nautex Classic 341 Uncoated are their standard styles for the regular acrylic market.
SATTLER NAUTEX PREMIUM 344 BREATHABLE ACRYLIC With Sattler's unique breathable coating technology, this is the only acrylic marine fabric to combine near waterproof performance, it has a hydrostatic head of 900mm, with excellent breathability. This market leading acrylic is ideal for all applications, especially enclosed cockpits and living areas.
SATTLER NAUTEX CLASSIC 354 COATED ACRYLIC Utilizing Sattler's own acrylic coating, this acrylic fabric has a hydrostatic head of 900mm and can be considered as a near waterproof cover fabric. It is ideal for applications where water ingress needs to be kept to a minimum, such as a sprayhood, bimini or cockpit cover.
SATTLER NAUTEX CLASSIC 341 UNCOATED ACRYLIC This style has a hydrostatic head of 300mm and is ideal to use when water ingress from standing or pooling water is less likely to happen. Offering maximum breathability it will not trap moisture or condensation which in turn reduces the chance of mildew, corrosion or other damage. Ideal for applications such as mainsail, winch, wheel and binnacle covers.
THE IMPORTANCE OF BREATHABILITY The breathability of a fabric for certain applications is every bit as important as its ability to stop water getting in. In the UK environment, especially a marine one, water ingress and condensation are a fact of life. The ability of the fabric to breathe is essential in reducing dampness, heat build up and condensation. This in turn reduces the chances of problems such as, mould, mildew and osmosis etc.
BREATHABLE COATING TECHNOLOGY Sattler have developed a unique and world wide patented coating and manufacturing process. This special coating prevents the development of condensation on the inside of the cover by allowing water vapour to pass through the coating to the outside, whilst rain and water cannot penetrate from the outside.
PROTECTION AGAINST THE ELEMENTS All Sattler acrylic fabrics are protected with an additional TexGUARD impregnation. This provides a water repellent finish and protects the fabric from general dirt, soiling and staining.
WINDOWS WITHIN A COVER When using large expanses of widow material that are not breathable, it is even more important to ensure the correct fabric is selected for the application. It is essential to maximise breathability through using the Nautex Premium 344 Breathable acrylic in order to balance out the overall breathability of the cover.
ACRYLIC WEAVE All 3 styles of the Nautex range are manufactured from the same base fabric, which is a tightly woven plain weave fabric to give good stability and a traditional look and feel. Using the same base fabric across the range also ensures continuity of colour throughout the range and allows the right style of acrylic to be used for a specific application without fear of colour matching issues.
FADE RESISTANCE Sattler only use the highest quality solution dyed spun acrylic yarns. With a solid solution dyed spun yarn the colour physically becomes part of the yarn itself. The solution dyed acrylic yarns ensure an excellent depth of colour in the fabric and have excellent UV and fade resistance.
FABRIC WEIGHT All 3 styles use the same base fabric, with the weights given indicating the finished weight. The Nautex Premium 344 Breathable Waterproof acrylic has a weight of 340g per sq metre. The Nautex Classic 354 Coated acrylic has a weight of 340g per sq metre and the Nautex Classic 341 Uncoated acrylic is 300g per sq metre.